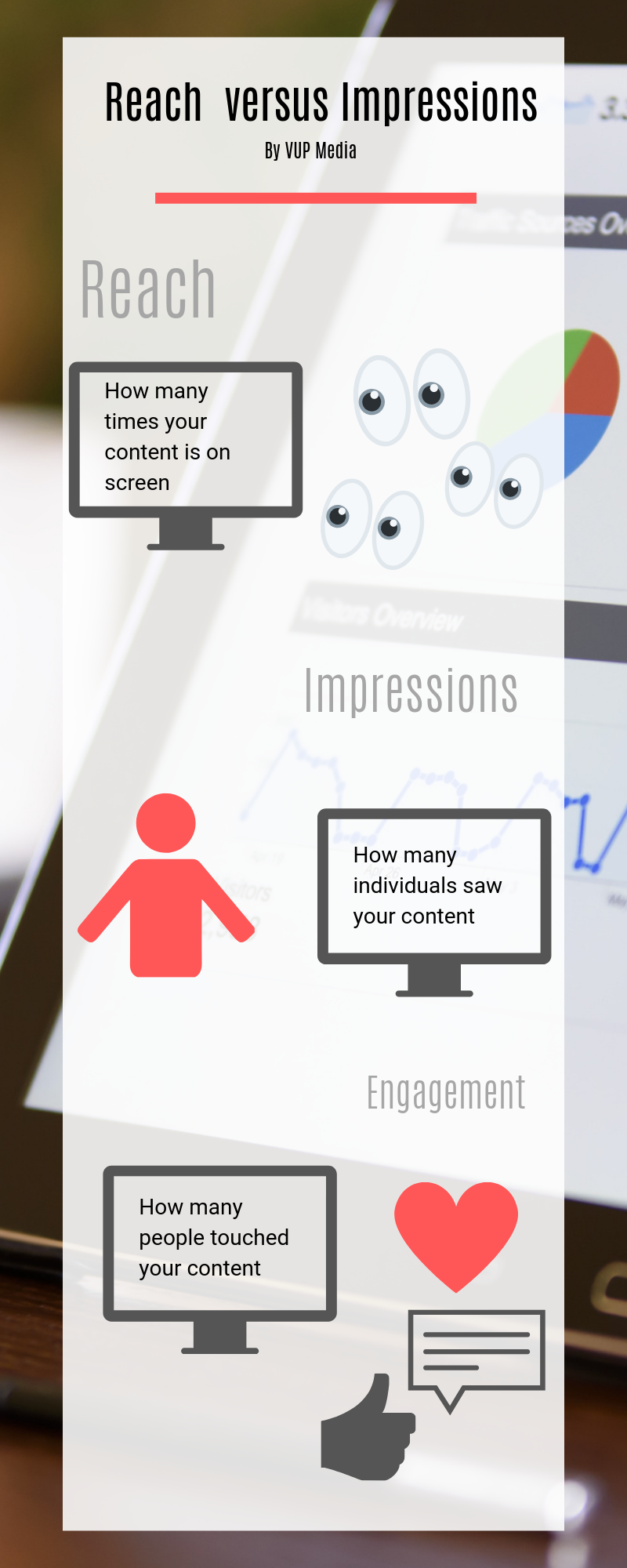 Reach Versus Impressions
Social media marketing is a necessity for many small businesses. The digital world is so prevalent. So how can you tell if they are seeing you? There are many different platforms, applications, and websites that analyze your digital marketing data. Many platforms now use the measurements of reach and impressions. What's the difference? In short, an impression is the number of times your content was displayed on the web, where reach is the number of people who saw your post.
Impressions
The number of times your content was on a webpage is measured by impressions. This means that a person could have seen your content more than once, was recounted in this data. This is useful to know because in some instances you want multiple touch points. The higher the impressions the more times your ad/post was shown on screen.
Reach
This variable shows how many individuals saw your article. Reach is going to be a smaller number than impressions most of the time. You can compare reach versus impressions to conclude how many times an individual saw an ad/post.
Engagement
Engagement is the smallest number of the three measurements and refers to people who liked, commented, shared or clicked on the content. These people are consciously interested in the content within the post and are going to be the audience to target.
To be successful in digital marketing it is very important to look at your analytics and use that data to improve. Actions that are taken to actively enhance the user experience can dramatically increase impressions, reach, engagement, and sales.
About VUP Media
We are storytellers, strategists, planners and artists. VUP Media is made up of digital strategists that help create and execute an array of your digital media and marketing needs. Under one roof and usually at one table, our team plans, produces and places your brand and assets across all platforms. Headquartered in Greenville, Rhode Island and Delray Beach, Florida, VUP Media is a full-service Digital Media and Interactive Solution agency. We have a multitude of services that will take your brand to the next level in the digital world. Call 401.949.8000 or visit vupmedia.com for more information.