What even is a CTA? CTA is short for a call to action. Okay, so what is a call to action? A call to action is part of your advertising techniques were you are telling your target audience to click and that follow the where the button takes you. CTA's are all about motivation your customer to do something, whether that means buying a product or service or just simply signing up for more information. A good CTA should give the consumer some sort of direction. Here are some easy tips to craft an interesting CTA: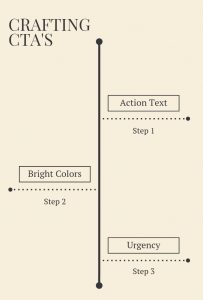 Action-Packed Text
Your call to action should motivate your target audience to click the button and continue their adventure down the conversion funnel. Typically, you will see words like "submit" or "sign up." Instead, use words like "reserve" or "go" or "get." These words seem more personable and entice your user to continue.
Bright, Bold Colors
Colors are the first thing the human eye notices. It is important that your call to action colors are bright, bold, fun, exciting. If you use a boring or dull color, for example, brown; your target audience may glaze over this and may not pay attention to the importance of the call to action soulfully based on its lack of interesting color. That brown color could be used as a background color and your CTA color could be bright green or orange.
Urgency
CTA's can also create a sense of urgency. Ever click on an e-commerce site and a pop up comes up saying "Hurry, Sale Ends Today!"? Yea, they do that for a reason. It creates a sense of urgency saying if you do not capitalize on the opportunity right that second, you will miss out. No one likes to be left behind, so this technique is very effective for click bait.
These tips are just the beginning of creating an effective CTA. There is a lot of strategy behind crafting the perfect CTA starting with what you would like to accomplish from your campaign. From there, what cohesive color combination and language would you like to use? All of these decisions can be stressful however, they are curtail in creating a successful campaign and crafting the perfect CTA.
About VUP
We are storytellers, strategists, planners, and artists. VUP Media is made up of digital strategists that help create and execute an array of your digital media and marketing needs. Under one roof and usually at one table, our team plans produces and places your brand and assets across all platforms. Headquartered in Greenville, Rhode Island and Delray Beach, Florida, VUP Media is a full-service Digital Media and Interactive Solution agency. Our 3,000 sq. ft studio is home to four post-production suites, an audio recording studio, and a unique team of creative marketing professionals, motion graphic animators, and web developers. We have a multitude of services that will take your brand to the next level in the digital world. Call 401.949.8000 or visit vupmedia.com for more information.