Now that Autumn is officially upon us, our marketing team sits down to review the year [2014] so far and predict what is still to come. In our creative/marketing environment, brainstorm sessions (or whiteboard sessions as we like to refer to them as) are necessary! We have equipped our meeting area with a large industrial-style table great for laying out print-outs, a flat screen that encourages community web browsing and walls painted with chalkboard paint. This is the central hub of where the whiteboarding occurs. As often as we can, we come together to bring up key topics and sketch ideas…directly on the walls.
Today, we discuss not only how companies have attempted to brand themselves but recognize how successful they have been with their marketing efforts.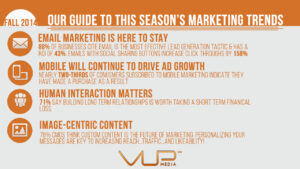 First, we analyze the approach B2B versus B2C take when setting marketing goals. Businesses-to-business companies market vertically and generally to niche markets with a smaller/specific audience. Their sales process can be lengthy with greater purchase costs. Businesses-to-consumer markets can be larger and broader in terms of audience and have a shorter sales process. With these criteria in mind, we know that B2B companies need to showcase their expertise in their field, convey success, and quality in order to build a relationship based on trust. Whereas B2C need to evoke a connection that encourage customers to purchase now, share their positive experience with other customers, and come back for more [over and over again]. Both B2B and B2C can obtain their goals by incorporating Content Marketing in their overall strategy. 60% of businesses use at least one form of content marketing in their marketing plan. This is a successful marketing method, as it is used to build relationships and lay the ground work for the impending sale. The key is to deliver relevant content marketing by way of video, presentations, email newsletters, and blogs.
Next, we look at industry type and size. Marketing dollars play a key role in the decisions CMOs make when devising their ad spending budgets. Large or small, brand awareness is at the top of the list of marketing objectives. By going digital, a specific brand or product has the ability to increase exposure virally. In our eyes digital means online, accessible on mobile devises, and user friendly. Mobile and/or internet marketing is obtainable for any type/size of business. Americans spend approximately 2 hours a day on a mobile device and 1 in 4 of online searches is done on these devices. Mobile marketing can range from search or image ads, text messages, to app-based solutions such as social media and email.
Email marketing and social platforms allow brands to increase exposure by showing personality; share relevant articles/tips as well as increase customer service efforts by engaging with customers and other businesses online. 62% of consumers have used social media for customer service. Creating relevant and eye catching messages (content marketing) support social endeavors as well. These marketing solutions include but are not limited to Facebook, Twitter, YouTube, LinkedIn, Instagram, Pinterest, Google+, and Blogging.
Case studies provide insight that 58% of small business marketers spend at least 10 minutes on social media marketing per day (26% spend an hour or more per day). 41% of B2B companies report Facebook generates leads with 67% more leads in a given month with the incorporation of an active blog. For these reasons, social media marketing budgets are measured to double over the next 5 years.
In addition to providing relevant key messaging online, remember that human interaction goes a long way. This is why many companies have a sales force whose primary job is to get out there and talk to people. Convenient customer service improves satisfaction for small and mid-large size organizations. 81% of organizations that stand out in customer service outperform their competition and increase in company value by 30%. Pick up the phone and engage with customers. 71% of consumers prefer to have a phone conversation.
What does this all mean for marketing trends in autumn 2014? If not already doing so, businesses should continue to collect; measure and use behavior analysis's to gauge what consumers want or need. Devise a customized marketing plan based on this data and ensure it can be modified after a period of time. Use content marketing through email, social media, and websites to bridge the connection between your customers and your brand.
Email Marketing Can Ensure You Remain Top of Mind [reach out once a month to provide updates and remind your customers you value their business]
Everyone (most) Have Gone Digital [ensure key messages are available online and accessible by mobile devices]
Don't Forget to Be Human [hone in on that emotional connection by being more personal]
Invest time in Content Marketing to foster relationships
Want to learn more about how you can spend your marketing dollars wisely? Contact our team and whiteboard with us today!